RAYMOND 13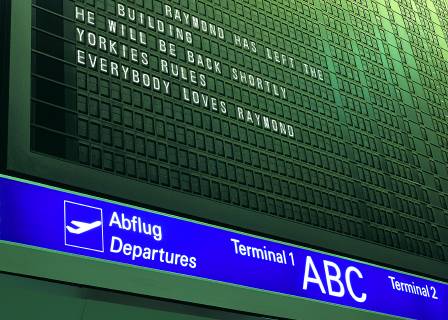 Little Yorkie Teddy Micky Mouse´s very first bath & some other pics, at 9 weeks of age !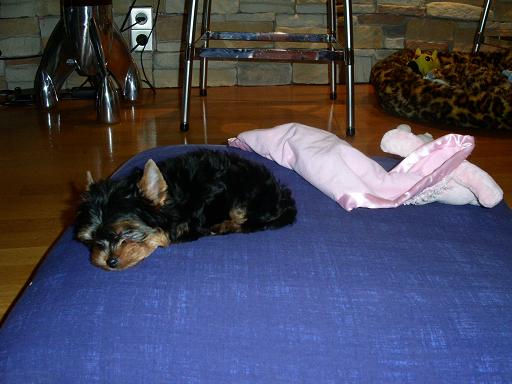 I feel that there IS something FISHY going on HERE !?!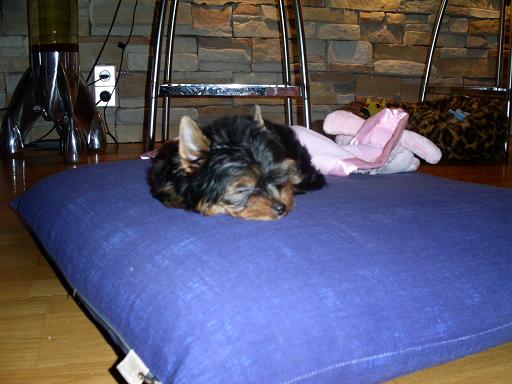 What EVER can IT be ???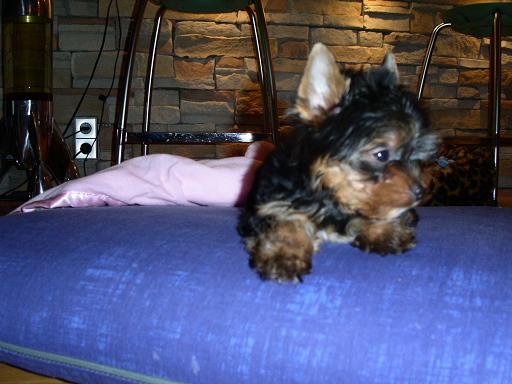 I better go and HIDE somewhere !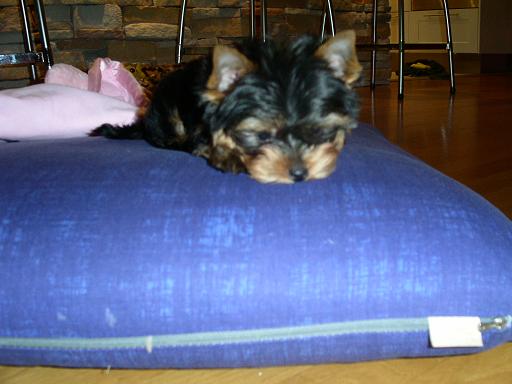 OHH...NO.....mommy was FASTER !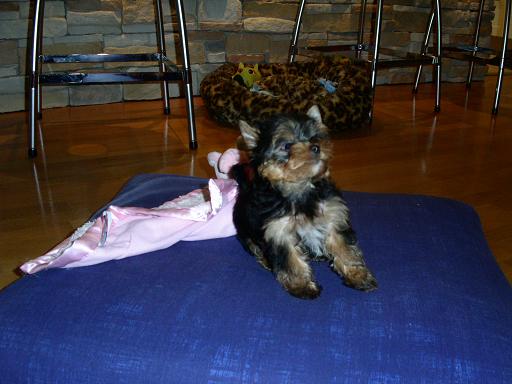 Wanna take a BATH !?! What is a BATH ???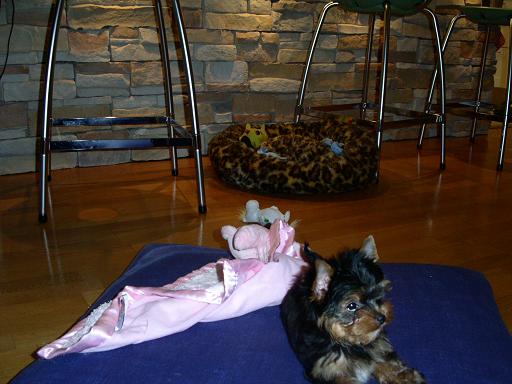 It includes water, a hair-dryer, a brush & stuff that smells perfume...hmm !?!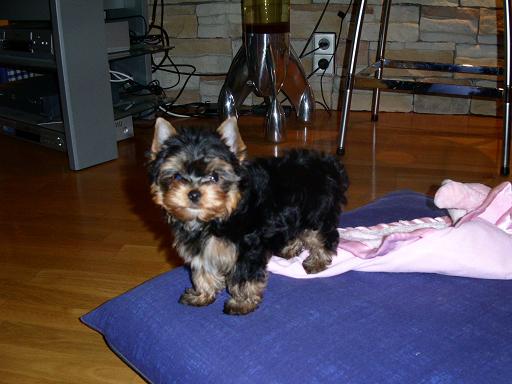 Well....I give it a GO, AFTER my playtime OK !?!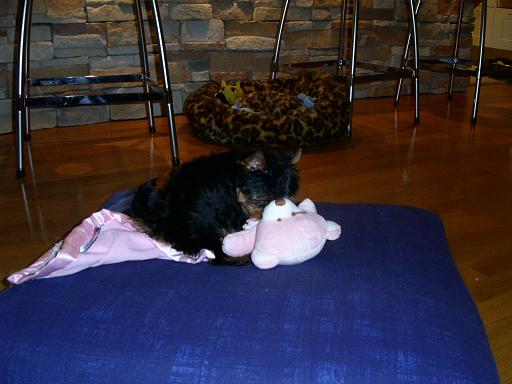 I´m gonna hump my little Teddy-blankie first !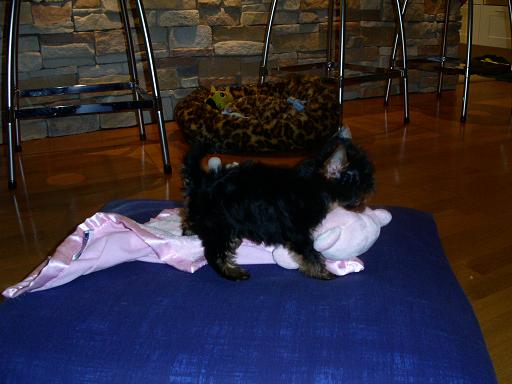 My Teddy-blankie makes cool noises also !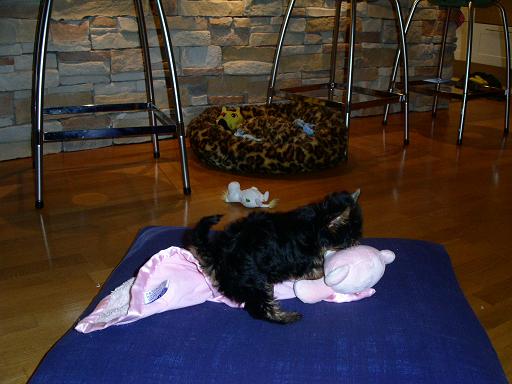 Come on Teddy-blankie !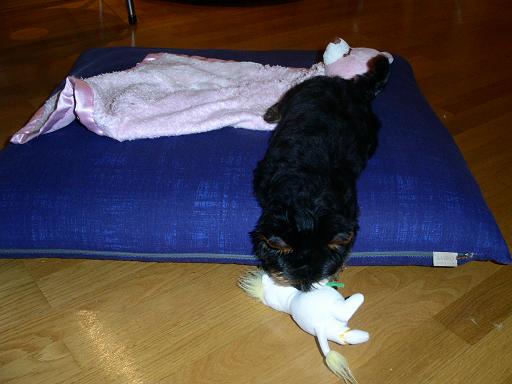 OH YES.....there is MY little Mumin-troll......KEWL !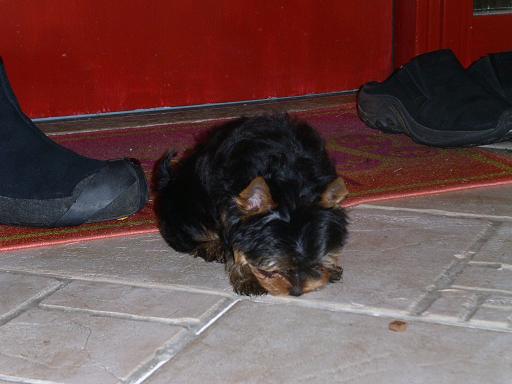 Sniff, sniff.......where IS my kibble !?!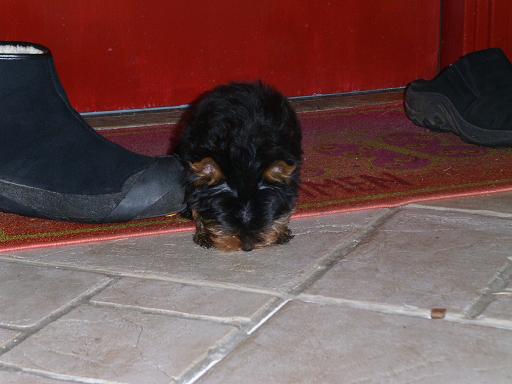 I smell & sense something else here.......hmmm !?!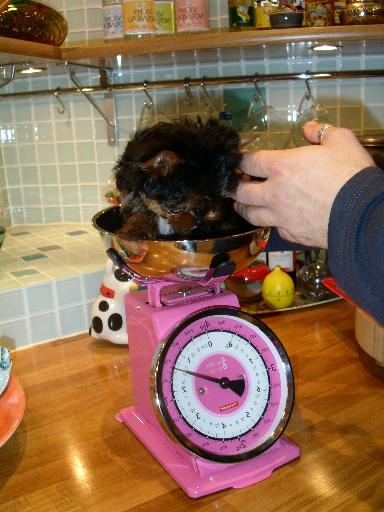 I weigh myself every Sunday, when I get my weekly bath & grooming done !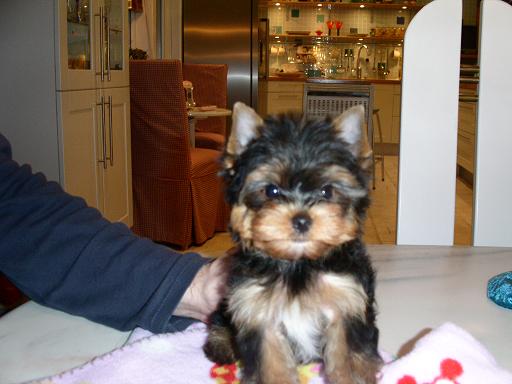 Fluffy hairstyle, huh ???
A little brushing on my Sunday SPA-day !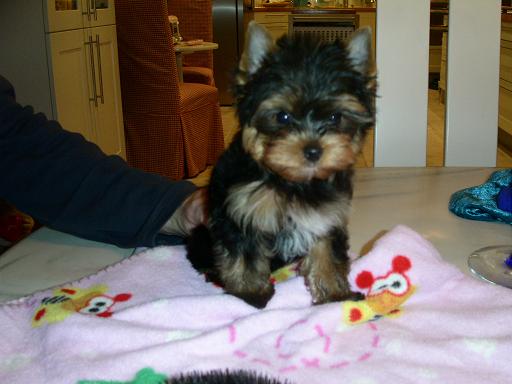 Mommy think that I look like a little Gorilla-monkey ! I think that is more Rocka-Billy style, myself....hmmmpf !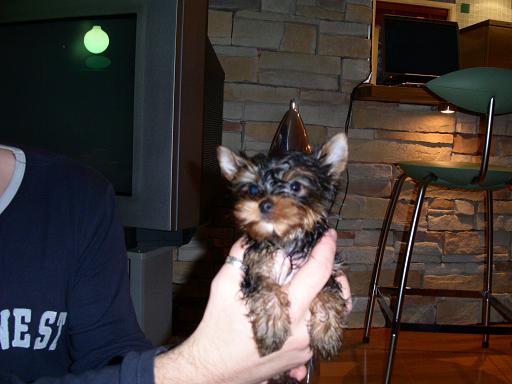 Me Teddy all WET after my very first BATH at home !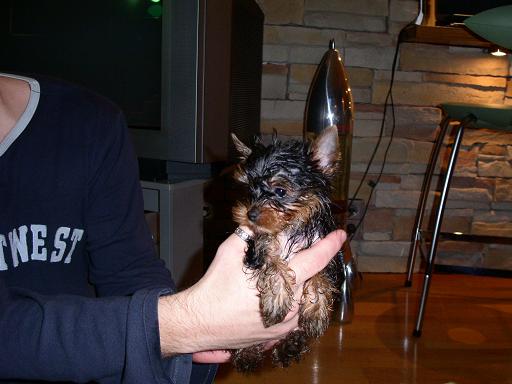 I´ve got HUGE ears, just like my big brother Raymond !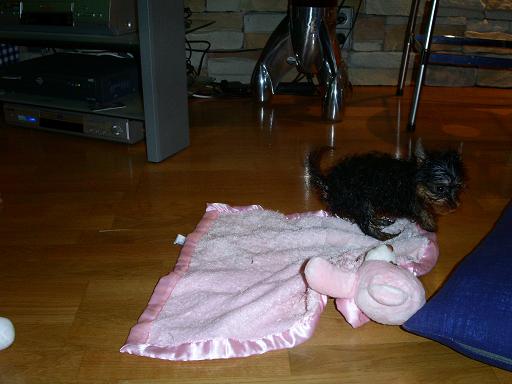 Trying to get dry all by myself, by running and rolling around on my little Teddy-blankie !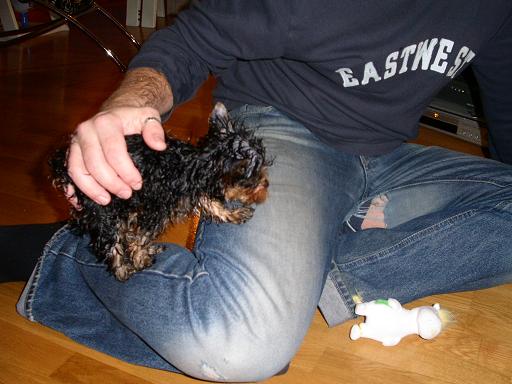 Dad......can my little Mumin-troll get a bath too..paweese..!?!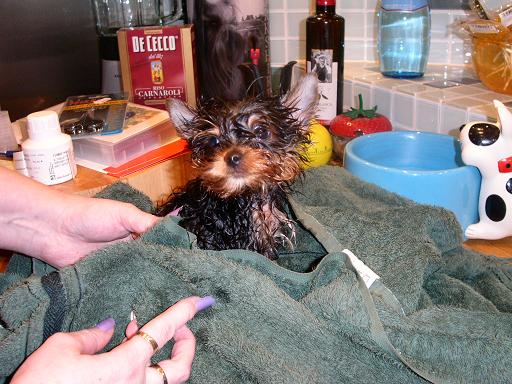 This was nice though.....a little massage & a little rubbing with the towel, after the bath !
Where IS that hairdryer that you PROMISED me, MOM ??? I´m getting REALLY COLD here !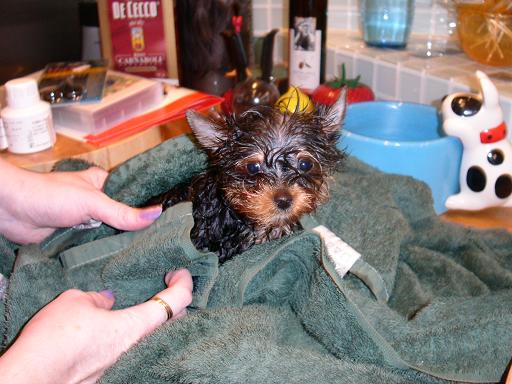 OHH BOY....I just REALIZED that YOU ALL, can see me ALL NEKKED here........HELP !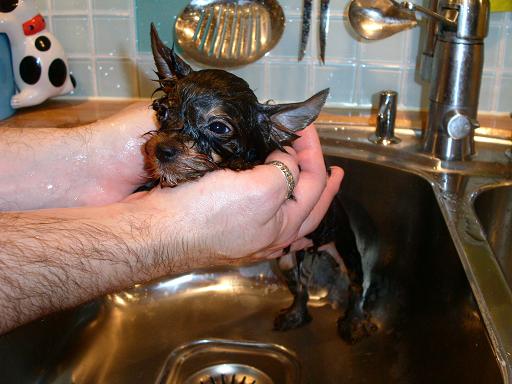 More nude-pics of ME little Yorkie Teddy !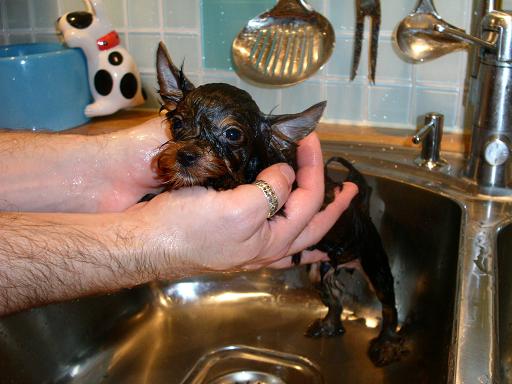 YES.....I AM doing my VERY BEST to STAND STILL here !
Mmmmm........I am a bit thirsty !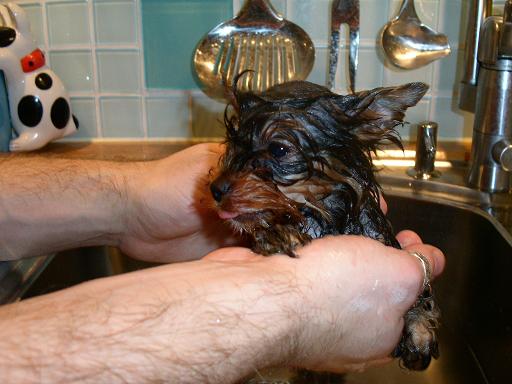 Yukki........conditioner & schampoo taste like CRAP !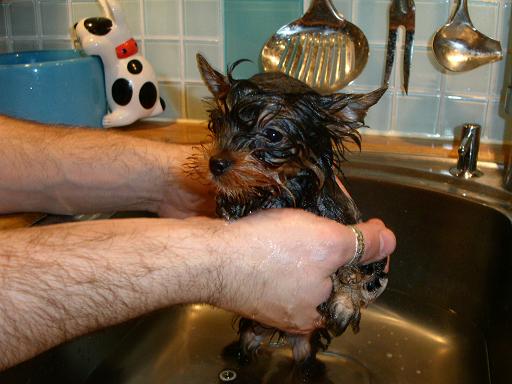 Are you TOTALLY SURE OF, that you can FIX ME & MY FUR all up AGAIN, mom ???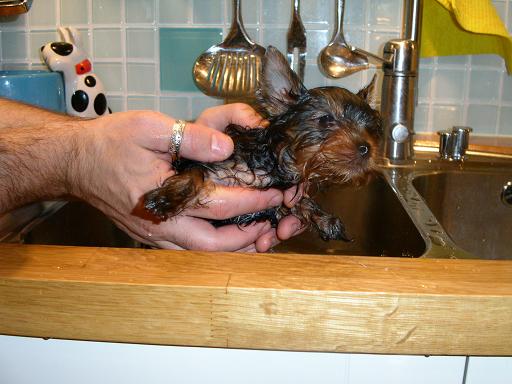 It is VERY slippery here......WHERE are my bath-slippers ???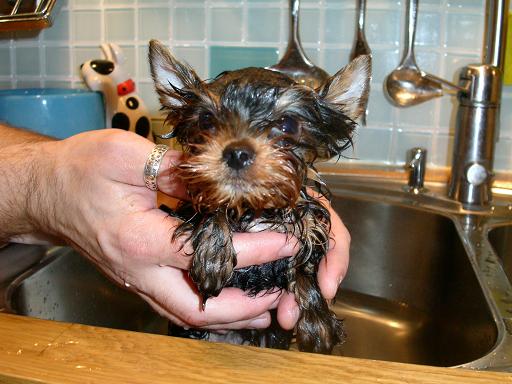 YES....it was kind of NICE to get clean in this warm & soft water......I SURRENDER mom !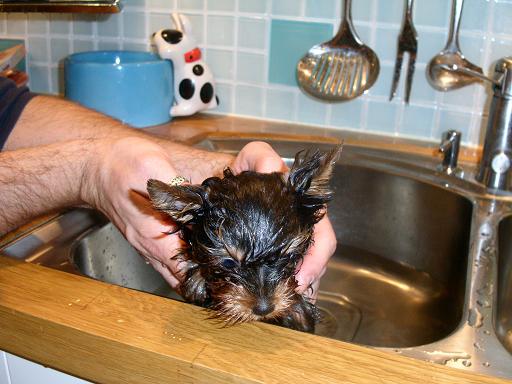 But NOW I want to GET OUT of HERE !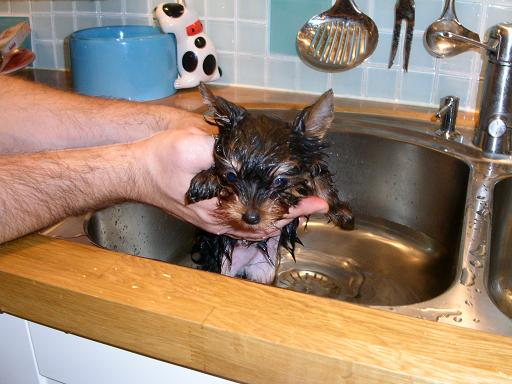 ME.....thin.....and small......!?!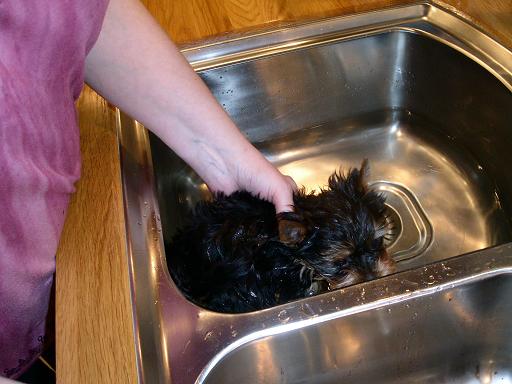 This bathtub is kind of STRANGE !?!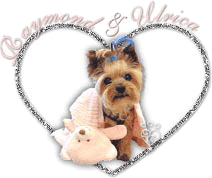 Please VOTE for us IF YOU LIKE our WEBSITE friends !!!
It ONLY takes a MINUTE !
Just CLICK on RAYMOND ABOVE & then YES...thank you SO much, MOST appreciated !